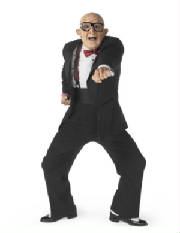 The Six Flags Guy
One of the craziest old person in the world. Broke out in fame in 2004 with his series of wacky Six Flags commercials with his Six Flags bus that only plays gay music. The Six Flags Guy is believed to be Dr. Phil McGraw from Oprah Winfrey's Dr. Phil Show.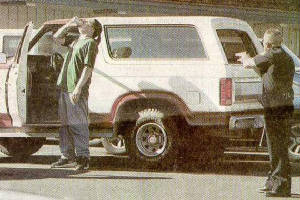 Some Jackass and a Cop
Two people here. Some jackass really is a trooper. He stands up for himself say that I'm not going to take and shit from the law. I'll be drunk whenever the Hell I want to be drunk. The cop is an ass. Stupid gay cop! Let him finish his damn beer before you get out you wimp gun. I'm so sick of these gay cops! Go get a life!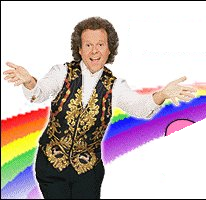 Richard Simmons
Richard "Slimmons" Simmons is as gay as gay can get. This "man" is beyond gay. He had a gay show called The Richard Simmons Show. Its not on anymore because it was to gay for people to watch anymore. This guy is a clown like those cool guys in that commercial. Go get a freakin' life RS!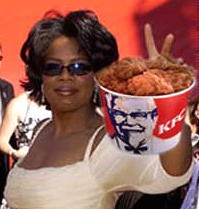 Oprah
This is fat Oprah. She enjoys eating and getting into everybody's life because shes stupid. Shes a lier. She makes people feel sorry for themselves and cry and then she laughs in there face because shes rich and there not. What a bitch!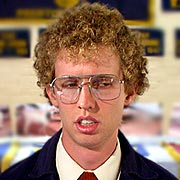 Napoleon Dynamite
Napoleon Dynamite, played by Jon Heder, is a depressesed wierdo who says that everybody else is ruined it. Hes always saying stuff like "Idiot!" and "You're ruining my life!" and "Sweet!" Disco freak!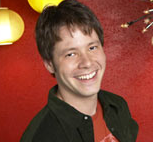 The Heroin Guy
This is Ike Barinholtz. He is a cast member on Mad Tv and played the heroin guy in the Samuel Adams sketch. What you may not know is that the herion guy's real name in the sketch is Mark Finklestien. Mark loved heroin until he saw Samuel Adams diappeared into midair. Now hes on marijuana again.

Gaylord Focker
Gaylord Focker, played by Ben Stiller in the incredibly unfunny movie Meet the Fuckers, I mean Fockers. This poor man has thee most screwed up name and one screwed up family. Hes just begging for the gay attack birds to kill him just like in that crappy book.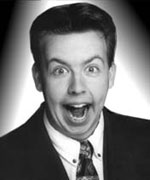 The Slow Clapper
This is Kyle Cease who played The Slow Clapper in the movie Not Another Teen Movie. Hes a loser. Hes always clapping at the wrong moment. He needs Melissa Joan Hart to tell him its not the right moment. He asked when he would know, but Melissa responded, "Oh, you'll know."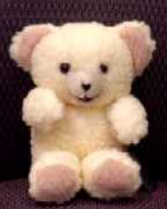 Snuggle
This is Snuggle, the fabric softener bear. He was born in a laundry room. In 2004 he starred in a movie called Freddy vs. Jason vs. Snuggle. Since that movie he has gone insane and killing people everywhere. Watch out for this button eyed teddy bear.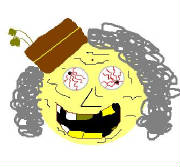 Hobo Grandma
One of the world's oldest hobos is here at the barrel of fun. Hobo Grandma is crazed homeless syco who killed her husband in 1922. She burnt down her house after that to destroy the evidance and has been living on the streets ever since. She is also know as The Six Flags Guy's younger sister.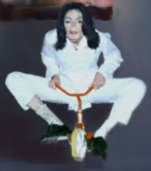 Michael Jackson
What the Hell is wrong with this freak? Gay bastard! This guy is such a pervert or as prevort guy would say it, "Prevort!". MJ should be in the home for insanly gay bitches because thats what he is. Hes more of a bitch then those attacking birds. Talentless gayass! You not 2 anymore!
Dr. Phil
This is Oprah's little gay bitch Dr. Phil. Hes such a bitch like Oprah. Hes bald too. He is a cross between a hillbilly and a gay guy from California. Get a wig baldy!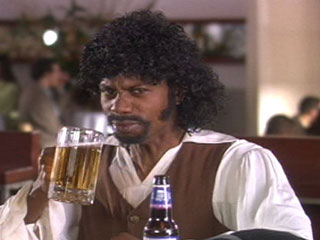 Samuel Jackson
The spokesperson for the beer that gets you drunk, Samuel L. Jackson, is here at the barrel of fun to tell you this, "Mmmmmmmmmmmm Mmmmmmmmmmmmmmm Bitch!!!" This crazed maniac has been saying that non stop for two years now and probebly will be sayin for the rest of his life. Poor bastard.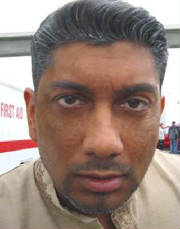 The "Prevort!" Guy
This is the prevort guy from the movie Say it isn't So. Hes always going around saying, "Prevort!!" and "In my country, people like you get beaten to death with bamboo sticks." His real name is Zahf Paroo. He plays a gay character in the movie but in real life he is much gayer then he appeared in the movie.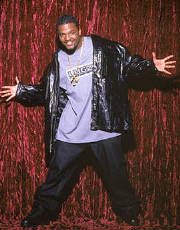 Crazed Radio Guy
Crazed Radio Guy will kick yo white ass you sons of bitches! His real name is Aries Spears, a former cast member on Mad Tv. This crazed maniac bitch slapped two DJs on live radio. What a lunitic!